What is a Macro Recorder?
Macro Recorder can record your mouse and keyboard actions you are performing on your Windows or Mac computer.
You can then playback the recorded procedure as often as you want or save the recording into a file for later use.
It works as easy as a tape recorder: Record, Stop, Playback.
You can manage your recordings in customizable tree structure in our productivity solution PhraseExpress and trigger them by text shortcuts or hotkey. PhraseExpress also enables you to share your Macro Recorder recordings with other users in your network.
How to use a Macro Recorder?
Macro Recorder is very easy to use in following two ways:
Press the "Record" button and Macro Recorder captures your mouse clicks, mouse movements and keyboard input. Simply perform the procedure you wish to automate with Macro Recorder and then press "Stop". Macro Recorder presents the recording as a list of individual actions which you can adjust or rearrange.
Alternatively, you can compose a macro step-by-step by adding individual actions to a script like a cooking recipe. Add mouse clicks at defined positions, search for images or text or add an action that inputs text into an application.
The result is a script that can be stored to the hard disk as a macro file. Macro Recorder can now playback the macro infinitely by pressing the the "Play" button.
With our productivity program "PhraseExpress", you can organize your macros and trigger them by hotkey for example.
How does Macro Recorder compare to Mouse Recorder?
Macro Recorder is the successor of Mouse Recorder and has been re-engineered from ground up with a new range of functions.
Development of Mouse Recorder has been discontinued as Macro Recorder provides all its features and many more. Due to the further development from a pure mouse recording tool to an automation solution, a renaming was necessary.
Features
Macro Recorder is based on the same user interface as Mouse Recorder and includes all its features, but adds many new functions, such as labels, goto, repeat, etc.
Compatibility with PhraseExpress
Mouse Recorder supports PhraseExpress up to version 13, but no later versions.
Macro Recorder is compatible with PhraseExpress v14 for Windows and PhraseExpress v3 for Mac.
Supported Operating Systems
Mouse Recorder supported Microsoft Windows only. Macro Recorder is also compatible with Apple macOS.
What, if a recorded program changes its window position or size?
Macro Recorder tries to restore the window to a position and size, allowing the macro playback reaching all clicked items in that program. Macro Recorder even recognizes changed monitor dimensions between recording and playback of a macro automation.
Can Macro Recorder perform optical character recognition (OCR)?
Yes, Macro Recorder v2 can scan a specific program window or the entire desktop for any defined text and. Macro Recorder can then click on that text or branch to different sections of the macro script.
Can Macro Recorder be used as a mouse auto clicker?
Macro Recorder can be used as an mouse auto clicker with ease:
To perform auto clicks, simply add and configure a mouse click action.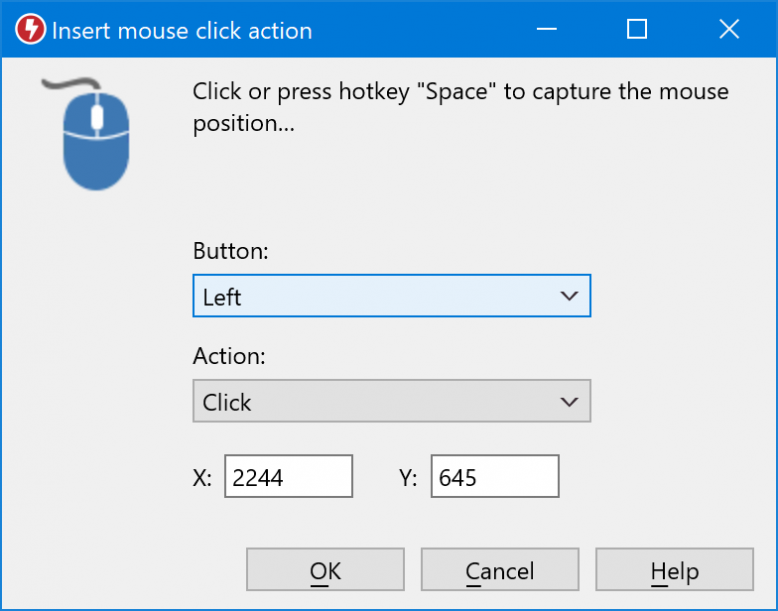 You can specify the coordinate of the click on the desktop, the click option (left-/right or double-click).
If required, you can also configure Macro Recorder to click and keep clicking while performing additional tasks, such as keyboard input or mouse movements.
Can macros be triggered by hotkeys?
Yes, Macro Recorder macros can be stored in our productivity solution PhraseExpress. You can then assign a hotkey to the macro stored in PhraseExpress to launch the macro.
Can macro recordings be scheduled?
Macro Recorder can utilize the "task-scheduler" built into Microsoft Windows in combination with our productivity solution PhraseExpress.
We believe, that you don't need another background program or service occupying extra memory and consuming CPU power while the Windows scheduler is running anyway. By using Windows scheduler, you have one central place to check out what is scheduled on your computer.
Is Macro Recorder spyware?
No, Macro Recorder does not have any "stealth mode" and is not designed to work as a spyware. You can recognize a recording by the Macro Recorder icon in the task/menu bar.
Is there a Linux version?
We carefully monitor the market but do not have any plan for a Linux version of our products at this time.
Does Macro Recorder record the desktop?
Macro Recorder records mouse or trackpad movements, clicks and keyboard input. However, Macro Recorder does not record the desktop content itself. For such task, you would need a screen capture software.