How may we assist you today?
First Aid
Where can I retrieve my lost license key?
Our online shop is handled by the 3rd party eCommerce provider "ShareIt/DigitalRiver" who handles payment, delivery and the license key database for your online purchases.
You have received your license with the delivery email coming from "DigitalRiver/MyCommerce/ShareIt". Please browse your email inbox for any of these sender names.
If you cannot retrieve the delivery mail from your email inbox:
Visit the ShareIt customers login
Adjust the web page language in the upper left, if necessary.
Click the button "My Account" and log into your ShareIt.
You can retrieve your purchase information.
If you lost the Login information, click the "Request Login/Password" link below the user/password input boxes.
Can the license be used on Windows and Mac?
The license key can be used for either a Windows or a Mac installation.
Do you offer volume discounts?
Yes, volume discount is automatically applied if you adjust the quantity in the shopping cart.
Can macros be executed at specific times?
Yes, the Macro Recorder Pro Edition for Windows support command-line parameters to load and start a macro.
Can Macro Recorder be used as a mouse auto clicker?
Macro Recorder can be used as an mouse auto clicker with ease:
To perform auto clicks, simply add and configure a mouse click action.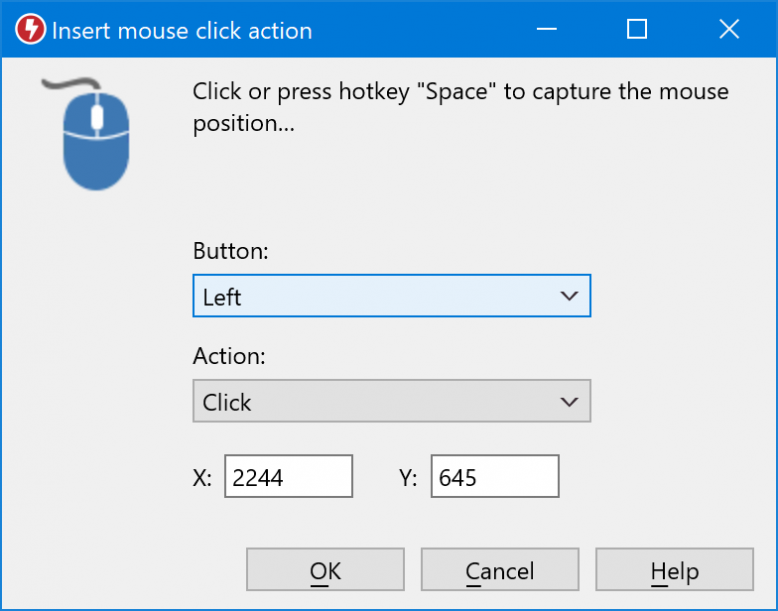 You can specify the coordinate of the click on the desktop, the click option (left-/right or double-click).
If required, you can also configure Macro Recorder to click and keep clicking while performing additional tasks, such as keyboard input or mouse movements.