We kindly ask for your understanding, that we are not able to support individual automation projects as we do not have your specific hardware and software setup. Customer service includes the correction of general, technical errors in the software. We do not provide programming consulting services.
Thank you for your understanding.
First Aid
What, if a recorded program changes its window position or size?
Macro Recorder tries to restore the window to a position and size, allowing the macro playback reaching all clicked items in that program. Macro Recorder even recognizes changed monitor dimensions between recording and playback of a macro automation.
Can Macro Recorder perform optical character recognition (OCR)?
Yes, Macro Recorder v2 can scan a specific program window or the entire desktop for any defined text and. Macro Recorder can then click on that text or branch to different sections of the macro script.
Can macros be executed at specific times?
Yes, the Macro Recorder Pro Edition for Windows support command-line parameters to load and start a macro.
Can Macro Recorder be used as a mouse auto clicker?
Macro Recorder can be used as an mouse auto clicker with ease:
To perform auto clicks, simply add and configure a mouse click action.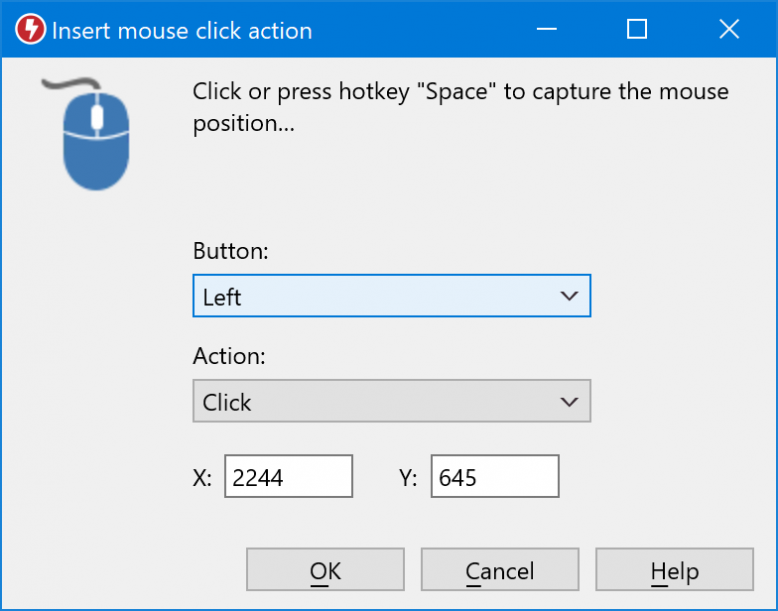 You can specify the coordinate of the click on the desktop, the click option (left-/right or double-click).
If required, you can also configure Macro Recorder to click and keep clicking while performing additional tasks, such as keyboard input or mouse movements.
Macro files are not executed by scheduler/command-line
If the macro file path contains, make sure to enclose the entire path with double-quotes.
Example: "C:\Program Files (x86)\MacroRecorder\MacroRecorder.exe" -play="C:\folder\my macro file.mrf"
Can macros be triggered by hotkeys?
Yes, Macro Recorder macros can be stored in our productivity solution PhraseExpress. You can then assign a hotkey to the macro stored in PhraseExpress to launch the macro.
Do you assist me with my automation project?
Macro Recorder allows you to automate your tasks but we kindly ask for your understanding that we are not able to assist you with individual and specific automation tasks.
We do not have your project environment, such as the controlled software, hardware, os configuration, etc.
The very low license price for Macro Recorder does not allow us to invest software engineer man hours to analyze and experiment individual projects which easily may require several hours.
Please allow a comparison for illustration: We sell a screwdriver and you can build a wonderful house with it. However, we can't assist you building the house or teaching you how to construct and build a house.
Here is our offer to you: We want your confidence first, not your money. Please try the demo version which allows you to try all features of the software, compatibility with your individual system configuration and fitness for the intended purpose without obligation before making a purchase decision.
The documentation explains how to use the software including many step-by-step video tutorials.
If you decide to purchase our software after your careful examination, it stays the same before and after licensing. You don't need to install anything different. You will receive a license key which removes the license reminders.
Program window is distorted
This is a known issue on macOS 10.13. "High Sierra" caused by components used by Macro Recorder. Official system requirement for Macro Recorder is macOS 10.14 (Mojave). We filed a bug fix to the provider and hope for a fix.
As a work around, please consider updating your Mac to the latest macOS version.
Can macro recordings be scheduled?
Macro Recorder can utilize the "task-scheduler" built into Microsoft Windows in combination with our productivity solution PhraseExpress.
We believe, that you don't need another background program or service occupying extra memory and consuming CPU power while the Windows scheduler is running anyway. By using Windows scheduler, you have one central place to check out what is scheduled on your computer.